Wire
High School Uses Biden COVID Funds to Put on Drag Show Performance, Pay Performers
On the White House's website, President Joe Biden's bloated, pork-laden American Rescue Plan — which was supposed to help those suffering from the effects of COVID-19 or the hardships caused by lockdowns — is billed as a cure-all for the devastation our cruel system wreaked upon the most vulnerable.
"Help is here with the American Rescue Plan," the site's banner headline announces. Below it are badly sketched illustrations as desolate, despairing and heartrending as Walker Evans' Great Depression photos, which link to pages that can help you get the necessary government-issued largesse.
In one, a woman sits pensively, alone, in the corner of a doctor's office: "I need help getting health care coverage," the link text reads. In another, a masked mother and her masked child are at the grocery store: "I need help buying food," the caption reads. In yet another, a father lying on the couch holds his child aloft, playfully: "I need help with rent," the caption reads.
Advertisement - story continues below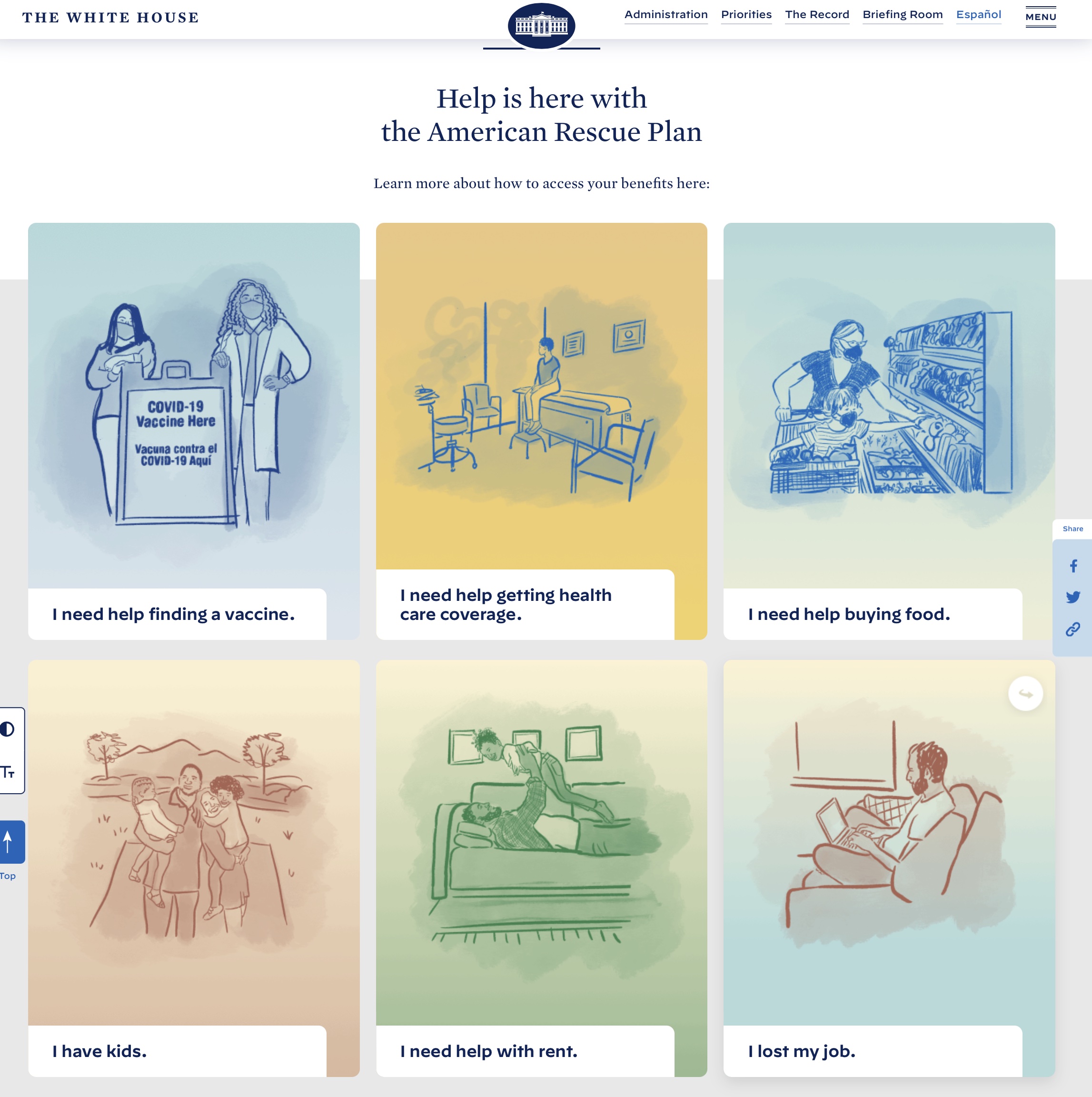 You wouldn't want to have them evicted now, would you, you heartless Republican?
Well, dear reader, I scoured the page. I looked high and low. I browsed through all the harrowing (if tossed-off) illustrations and looked at most of the links. What I did not see was a picture of a man dressed in provocative women's clothing shaking his money-maker for teenagers, along with the caption, "I need help bringing drag queens to perform at my high school pride event."
Somehow, however, the enterprising folk at Manchester West High School in Manchester, New Hampshire, must have found this mysterious link because, according to Newsweek, the school's pride month event will be using $4,000 in American Rescue Plan funds — meant for pandemic relief, may I again remind you — including $500 for drag performers.
Advertisement - story continues below
The grant request to use the leftover funds from the pandemic giveaway was approved by Manchester Mayor Joyce Craig, a Democrat eyeing a run at the governor's mansion. However, for reasons that needn't be explained, this has caused what Newsweek charitably called "a rift between some Republican and Democratic players."
For instance, there's the state Department of Education, where the Republican commissioner is, um, skeptical this is what "pandemic relief" involves.
Should schools be allowed to use taxpayer funds for drag queens?
"Is this really the best use of taxpayer funds?" said New Hampshire Department of Education Commissioner Frank Edelblut — who, according to Patch, is also considered a gubernatorial contender if Gov. Chris Sununu decides not to seek a fifth term in 2024.
Mayor Craig — unsurprisingly, but probably wisely — declined to comment. Happily for us, superintendent Jennifer Gillis filled the void and provided Newsweek with a tin-eared, pro forma statement about why her school was using federal taxpayer COVID relief money for a pride celebration featuring drag queens.
"As a district, we support and care for all of our students as they learn and grow. Events such as this are consistent with the goals of our community-developed strategic plan, and in line with District policies," Gillis said in her statement. "It's important to note that West High School has been hosting a Pride event since 2018, and the agenda for this event is similar to other years."
Advertisement - story continues below
I mean, except for the fact it's being paid for by federal taxpayer-funded COVID relief money, which is the entire controversy here. Gillis went on to address it, albeit briefly and without any explanation about how this is related to the pandemic.
"As with other years, this is an after-school, extra-curricular, opt-in event. In prior years, it's been well-attended, including students, families and members of the West Side community," the statement continued.
"This year, the group organizing the event applied for and received a Community Event and Activation Grant from American Rescue Plan Act funds through the city of Manchester. Although this is a school event, the district and partner organizations are working to help support the school as needed."
The funds were obtained through Manchester's Community Event and Activation Grant program; in the grant application, Manchester West art teacher Richella Simard wrote they were "looking to get equipment that is sustainable and durable for many more Pride celebrations and activities at West to come."
Advertisement - story continues below
"Simard's list of Pride equipment on her grant application includes a photo booth and film, a PA system, tables and chafing dishes, as well as an additional $500 for unspecified 'Pride decorations and swag,'" Patch reported.
I'm not quite sure how "sustainable and durable" the drag queens will be, as that makeup eventually has to come off and those heels really begin to hurt after a while. What I am pretty sure of is that this doesn't sound at all like COVID relief. But, as Newsweek noted, that's just one of the problems with the American Rescue Plan: When cities received money from the federal government under the 2021 stimulus package, there were guidelines on how it could be spent, but those guidelines were deliberately vague.
"Although LGBTQ+ events weren't specifically listed in the guidelines, cities had flexibility in determining the best use for the funds. Such events likely fell under 'responding to the public health and negative economic impacts of the pandemic,'" Newsweek noted.
"The National League of Cities published a list of potential uses for the funds. They included utilizing the money for programs or services for those affected negatively by the pandemic, providing funding to be utilized by disproportionately affected communities and providing assistance to households, small businesses and nonprofits."
Advertisement - story continues below
So, in other words, the poor LGBTQ2ABCBGB++ community at Manchester West High School was so "disproportionately affected" by the pandemic they need a cool four grand for a pride month bash, including $500 for drag queens. And you're paying for it!
Yes, it's a drop of pork fat in the $1.9 trillion bucket that is the American Rescue Plan, but this is part of the problem with the Biden administration's spending spree: All of these packages contain a torrential downpour of lard, and the White House behaves as if emptying just one bucket of it is tantamount to Dickensian austerity.
Federal funds for drag queens at a high school could be the most egregious example, but look a bit harder and you'll find some competition. And I promise you, none of that pork will be helping that poor, imaginary, badly sketched dad, holding his child in the air and wondering if he'll be able to make the rent payment next month. Thanks, President Biden.
This article appeared originally on The Western Journal.
Conversation